BeOS software
BeOS officially died in 2000. It still lives in the form of its open-source re-creation Haiku OS. Anyway it is still dear to my heart as it was the only platform on which was able to learn C / C++ easily using a book and the internet. I was Be Developer # E-15448
The software below is designed to run on the original BeOS R4 or R5 and is obviously not maintained anymore. Again running a Virtual Machine in VMWare or similar is the easiest way to test this.
W6 – What Went Wrong? It's a World Wide War!
This a strategy game, featuring a worldmap with every single country on this planet including Swaziland (hello to all of you Swaziland BeOS users). It has real data for every country in the world (at least in the 70's), including population, PNB etc. Using the editor, you can let the computer play alone and turn it in kind of war simulation software.
The current version (1.7) with a redesigned interface is still an intermediate release. It is quite stable (far more than the first version uploaded onto beware). The editor is enabled, you can add, modify or delete groups and politics, edit countries data, choose your own flags and so on but... you still cannot save ;-) I'll implement the save function when I consider the game's canvas is really fixed. I need to include the weapon editor which is a very difficult task considering the way this all started.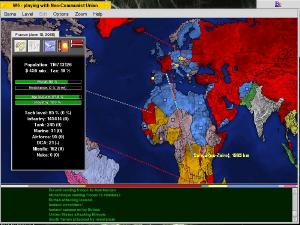 Natural Paint
Current version is 0.5 is a very early release, it has a nice interface but is nearly unusable, it's just a teaser somehow, use at your own risk and read the readme file, click below to download.
This is a painting program that is trying to join all basic features of Painter, Photoshop and Amiga's Deluxe Paint (no animation however). Itt has support for wacom tablet's pressure. Layers, Drawing, masking, filtering and all that.... See by yourself.
Download Natural Paint for BeOS/Intel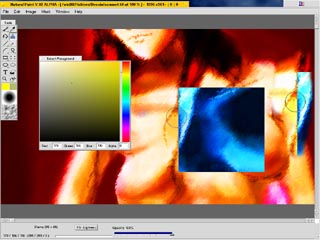 X-Copy
A duplication / archiving software based on GNU's DD for the BeOS. It may remind some of a famous Amiga disk duplication tool.
Basically it allows copying floppy disks. It can also save the disk images as files for backup purposes. The images can be compressed (provided you have gzip installed, which should be the case if you didn't delete it). You can use it to duplicate disks in virtually any format including HFS, FAT and BeFS. You can even create a BeOS Boot disk which seems to be a problem for a lot of people if I refer to the numerous postings in be-related newsgroups.
Download X-Copy for BeOS/Intel
Source is included in the distribution.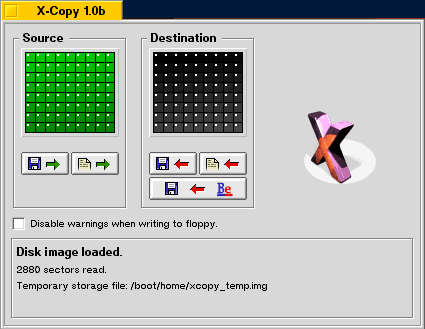 Visual wget
A simple graphical interface for the well known GNU's W-Get. This adds the ability to pause, continue the current downloald. You can use it from the command line just as the original wget or launch it as a normal app. Give it an URL (http and ftp) and it will download it. When downloading big files from the net it can be to say the least "unsure" to use netpositive since it could crash at anytime and stop all of your downloads. So you'd better use Visual-WGet. You can launch Visual-WGet multiple times. This means that if one of them happens to crash the others won't. I also plan to release some day a manager (a separate program) a la GetRight which will launch and drive VWGet(s).
Currently there's a bug which won't let you try to download another file if the download has been terminated (finished or aborted). You'll have to launch it again. Hope to solve this soon but since it may take some time I prefer to release it right now. Apart from this little problem the program is stable (of course only the part I wrote is buggy... ahem).
Download Visual wget for BeOS/Intel
Source is included in the distribution.

Correctly Mapped Swiss French Keymap for BeOS R4/R5
Et oui, cher compatriotes, enfin un keymap décent avec les accents, le tilde, les <>\ et le reste fonctionnant parfaitement. De plus un certain nombre de signes ont été assignés où cela était utile de façon cohérente je crois. OE AE liés etc. Ce keymap fonctionne autant sur la R3 que sur la R4. Il suffit de copier dans beos/etc/keymap et de le sélectionner dans preferences/keymap. Merci à Marc Schefer pour avoir corrigé les dernières erreurs. Ainsi qu'à Lol Zimmerli pour la version PPC et encore des 'dernières' erreurs ;-)
Download Swiss French KeyMap Intel